The more I do these lists, the more transparent my movie preferences become. I got a pretty obvious film profile. I can't hide it.
Anyway. One more time. The last few movies I saw ranked by what I thought of them. Enjoy.
14. An awkward American re-edit of an already pretty bad Taiwanese monster movie. This is Thunder of Gigantic Serpent (1988). A little girl finds a snake that keeps growing until it becomes a full on kaiju. The subplot about an American mercenary named Ted Fast and something with gangsters are added nonsense that go nowhere except to offer some excuses for silly fight scenes. Tonally, the movie is a mess. Is it for children? But then the city destruction! Spoiler alert: best part of the movie comes after they finally kill the giant snake the little girl has an uncomfortably long crying meltdown. It felt metaphorical and cathartic for how much I hated the movie.
13. Stephen Chow's God of Cookery (1996) is no Shaolin Soccer. A conceited master chef fraud learns some humility and actual cooking skill when he loses everything and winds up in the streets where he meets Turkey, a savage, ugly woman who knows her way around a food cart. Alas, a lot of the humor didn't really work for me, but it has one or two decent moments and Chow always has some charm.
12. Finally, an utterly joyless Jackie Chan movie. The Foreigner (2017) is a revenge thriller about a former special ops soldier (Chan) who goes after the Northern Ireland deputy Prime Minister (Pierce Brosnan) after his daughter is killed in a bombing attributed to the "Authentic IRA". People expecting a sort of Taken kind of action thriller will be disappointed. I was disappointed. Brosnan and Chan are both good, but the film itself is a bit boring and slow and complicated without being terribly interesting about it.
11. For the life of me, I can't tell who the Leprechaun movies are for. Are they for fans of bad horror? Fans of bad comedy? Fans of Warwick Davis? Are they for children? But then, why the boobies? Leprechaun 4: In Space (1997) is absurd garbage. I like Warwick Davis (despite his Irish accent being about as offensive as a minstrel show) and I like schlocky slasher flicks, but the awkward attempts at comedy are so cringe-worthy that it makes this one difficult to stomach. This movie is laughably bad. It looks like a bad TV show. Utter nonsense. But then you must have known that from the title. Why is there a leprechaun in space? Schlock-master director Brian Trenchard-Smith isn't terribly interested in answering that. Still more watchable than The Foreigner.
10. I'm not a big fan of the MCU, but I remember enjoying Guardians of the Galaxy overall. So I finally watched Guardians of the Galaxy Vol. 2 (2017) and it's about as fun as the first one. Maybe better since it has a decent villain this time and a bit more of an emotional center (thanks chiefly to Michael Rooker's performance as Yondu). Some fun action. Some fun spectacle. Some fun comedy (a bit too much at times). For the record, I liked this sci-fi adventure a lot more than its unfortunate proximity to Leprechaun 4: In Space might have you believe.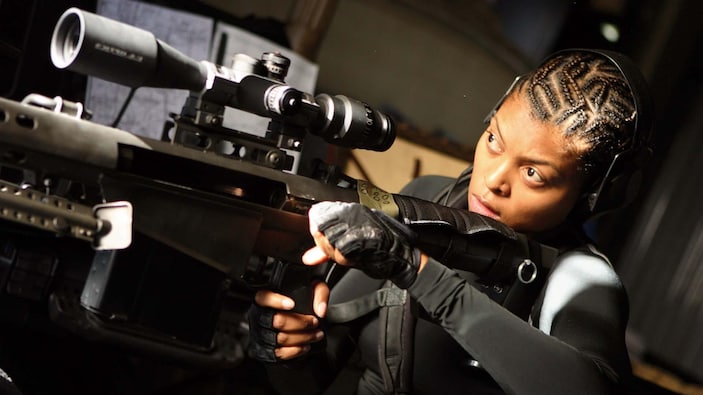 9. Smokin' Aces (2006) is a movie that gets by on its cool. Several guns-for-hire go after the same annoying target (Jeremy Piven) while the cops try to protect him before he can testify against the mob. It's got quite the cast (Taraji P. Henson, Ryan Reynolds, Ray Liotta, Common, Alicia Keys, Chris Pine, Ben Affleck, Andy Garcia, and more). Most of the fun comes from the very different approaches the killers have and their unique styles. Not a bad little action flick and a good ending.
8. Bon Cop Bad Cop (2006) follows the tropes of a lot of generic American buddy cop flicks, but the Canadian setting gives it a unique flavor and it is kind of refreshing to see a legit bilingual film. A by-the-book Ontario cop and a loose cannon Quebec cop have to team up and begrudgingly work together when a dead body is found on the border between Ontario and Quebec. The chemistry between the actors Patrick Huard and Colm Feore is solid and despite the humor, they play it more-or-less straight, lending some credibility to their performances.
7. In preparation for the new Netflix series, The Dark Crystal: Age of Resistance, I re-watched Jim Henson's original The Dark Crystal (1982). It's always kind of fun revisiting old movies you haven't seen in years. While I still have some issues with the overall storytelling, the audacity of building a fantasy world from scratch with its own ecosystems and mythology and then doing the whole thing with puppets is commendable. The Gelflings are still rather bland. The Wise Ones still feel like we're missing some backstory. And the Skeksis are still a wonderfully revolting delight. It's more fun to take in as a bizarre time capsule and a peek inside Jim Henson's more philosophical and fantastical side. I wish the world had let him do more than the Muppets. We could have used more like this and Labyrinth.
6. An art gallery owner (Amy Adams) receives a manuscript for a book written by her ex-husband in Tom Ford's Nocturnal Animals (2016). The book disturbs her and causes her to re-evaluate a lot of her life's decisions. The book's protagonist appears to be her ex-husband (Jake Gyllenhaal) going through a process of loss and grief following a harrowing encounter with roadside hooligans. But what does it all mean? It's enigmatic and atmospheric and symbolic and has an unyielding tension. Michael Shannon, Isla Fisher, and Aaron Taylor-Johnson co-star.
5. I, of course, recognize that Tales from the Crypt: Demon Knight (1995) isn't exactly a beloved classic…which is exactly why it's perfect for one of these lists. Ghoulishly bad puns aside, this is actually a fun bit of horror-comedy and Billy Zane plays a damn good Satan. A group of random people get stuck in an old church that is slowly filling with bloodthirsty demons. Unlike Leprechaun 4, both the horror elements and the dark comedy elements work and play off each other quite well. I'm a bit of a sucker for good horror-comedy. In addition to Billy Zane and the book-ending Crypt Keeper himself, the cast also includes Jada Pinkett, William Sadler, Thomas Haden Church, C. C. H. Pounder, Charles Fleischer, and Dick Miller. It's not an important film and it isn't really aiming for anything other than a diverting 90 minutes of spooky mayhem.
4. Boy, am I glad I finally got around to watching this one. The Lost Boys (1987), directed by Joel Schumacher, is about as 80s as you can get. A homoerotic punk vampire gang (led by Kiefer Sutherland), a comic book store nerd crew of wannabe vampire hunters (led by Corey Feldman), and the lost big brother (Jason Patric) who gets caught between his human life and a new world of power and horror. Great soundtrack too and Jami Gertz is gorgeous. I wouldn't change a thing.
3. I really do need to watch more John Waters films. Cecil B. Demented (2000) is the gonzo story of a renegade troupe of movie snob terrorists and underground filmmakers who set out to fight back against soulless, lowest common denominator Hollywood tripe (like Forrest Gump 2 starring Kevin Nealon) by kidnapping bratty A-lister Honey Whitlock (Melanie Griffith) and staging a back-lot revolution. Its bonkers and joyful and full of exactly what one would expect John Waters' attitudes about Hollywood to be. While Waters does put Hollywood blockbusters dead center in his sniper scopes, he's not above mocking his terrorist protagonists for the delusional, idealistic weirdos they are. It's sort of the whole movie ecosystem he skewers in this dark comedy. I especially loved that the gang all had auteur tattoos (from Kenneth Anger and Otto Preminger to Pedro Almodóvar and Sam Fuller). Cecil B. Demented is a movie for angry movie nerds and fans of underground cinema. Cast includes Stephen Dorff, Mink Stole, Ricki Lake, and Maggie Gyllenhaal.
2. A Swedish border patrol agent with a rare chromosome disorder has an encounter with a mysterious traveler who may be just like her in Ali Abbasi's Border (2018). Somewhere between a low-key, slow-burn horror and a dark drama steeped in magical realism, Border is something of a masterpiece that is full of surprises. I'm really torn because I want to say more about the film, but I really don't want to spoil anything. It's a work of art. And I definitely recommend it.
1. Comic book writer and animator Dash Shaw creates a stylistically unique teen world in the utterly brilliant disaster comedy, My Entire High School Sinking Into the Sea (2017). Jason Schwartman, Reggie Watts, Susan Sarandon, Lena Dunham, and Maya Rudolph lend their voices to the inventively animated world. It's a bit of The Poseidon Adventure and a bit of Rushmore and, at times, an allegory for climate change. I may be somewhat predisposed to respond positively to a movie like this, but that doesn't mean you won't enjoy it too.