I watched more movies because I'm stupid. Ordered, as always, worst to best.
This list contains a perhaps uncharacteristically high number of what would traditionally be labeled as "bad" or "so-bad-it's-good" movies. I take movies very seriously. Not all movies—or even all bad movies—are created equally. As subjective a scale as it may be, I have tried to rank the films (good and bad) by genuine enjoyability. For this reason, we must look beyond the technical aspects to the deeper things within.
21. The Wizard of Paws (2015) was a stupid decision. Talking magic dog and a kid reeling from the death of his dad or something. We didn't finish it. It was perplexing, upsetting, and awful, I'll give it that, but, as you will see, there are far better bad films out there. Just wait.
20. James Franco directs and stars as infamous bad movie icon, Tommy Wiseau, in The Disaster Artist (2017). Like many folks, I have a long, torrid, personal relationship with The Room. From my first viewing of it years ago and finding everything Wiseau had ever done to some awkward, fresh-out-of-college attempts to pitch a series with him, we go way back. That said, turning the celebrated bad movie into a standard Hollywood comedy about making a bad movie in Hollywood has risks. It has its moments, but it will never be as entertaining as The Room and that's probably obvious. However, it also falls short of being as interesting or revealing as Rick Harper's documentary Room Full of Spoons. And for movies about making movies I think it's hard to compete with Tim Burton's Ed Wood or Tom DiCillo's Living in Oblivion. You can tell they love The Room, but this one feels more geared toward James Franco and Seth Rogen fans rather than The Room aficionados.
19. Re-watching Peter Yates' sword and sorcery and science-fiction epic, Krull (1983), reminded me why I remembered it and why I hadn't watched it in so long. Really good start and moments of fun, but ultimately a bit of an aimless slog. With an impressive budget, this space-fantasy misfire boasts some wonderful sets and visuals, yet these high points are dashed by weak leads, a dopey story, and every single scene going on for way too long. Krull could have been as fun as Flash Gordon but, in its attempts to take itself more seriously and mimic Conan the Barbarian (and failing), it falls short. Despite being geared to adults craving high fantasy, Dark Crystal is more grownup than Krull. Watchable, but meh.
18. One of the last cel-animated feature films for Disney (and one that apparently tanked so hard they put all focus onto CG features after that) was Treasure Planet (2002). The environments, atmosphere, and animation are fluid and beautifully rendered. A lot of the comedy doesn't quite work, but it's a beautifully realized adventure story that, while not be perfect, is still a lot of fun. It's Treasure Island in space. Kid me would have loved this. The Ice Pirates is another pirates in space movie if you need more.
17. Star Wars: the Last Jedi (2017) is another Star Wars movie. This is a series that continues to draw me in with its nostalgia and continues to be alternately interesting and disappointing. Mark Hamill gives probably his best performance as Luke in this one, despite his misgivings about the script. You've already seen the movie by now. It's a bit of a mess. As a Star Wars film or just as a film, it just doesn't feel complete or focused. Like The Force Awakens, it at least looks good and it's not completely devoid of entertainment value. Just not something I feel the need to see again.
16. You really couldn't ask for a more uninspiring title for a movie about hitmen (and women) than Hired to Kill (1990). A bro-y mercenary guy (Brian Thompson) assembles a crack squad of mercenary ladies to pose as fashion models so they can go kill somebody in South America for some reason. It's stupid and laden with cringeworthy machismo, but the villain being played by a blatantly drunk Oliver Reed really bumps this one up.
15. Wolfgang Petersen (NeverEnding Story, Das Boot, Air Force One) directs the sci-fi flick about overcoming your intergalactic differences, Enemy Mine (1985). Unwieldy double entendre title and out-of-place attempts at wacky hijinks aside, this space version of John Boorman's Hell in the Pacific is actually pretty good. Dennis Quaid (the human) is serviceable, and Louis Gossett, Jr. (the hermaphroditic alien) puts more effort in than what might be required. The makeup and special effects are pretty good and it has some solid scenes between the two uneasy allies. It suffers from some awkward tonal shifts and a lagging pace, but it's worth a look. Or just watch Hell in the Pacific instead with Toshio Mifune and Lee Marvin.
14. I never saw Bad Santa (2003) before. It was funny. It had a good cast. I liked the story. Director Terry Zwigoff (Ghost World, Crumb) has an eye for oddballs and misfits. Billy Bob Thornton is an alcoholic burglar who poses as a mall Santa Claus. He's bad. Get it? His reluctant relationship with a socially inept boy (Brett Kelly) is the heart of the movie. Tony Cox, Bernie Mac, Lauren Graham, and John Ritter round out the cast of funny people.
13. This next one is in the same wheelhouse as Samurai Cop and Miami Connection. Hard Ticket to Hawaii (1987) is the movie the biggest meatheads in your high school would have put together. Hilarious amounts of unjustified nudity, over the top nonsensical violence, thinly veiled homophobia, misogyny, and overall amateurishness, make this schlocky low-budget action flick a must-watch. Its incompetence make it a little hard to follow, but it has enough laugh-out-loud moments that I have to recommend it.
12. More aliens! I sought this one out after The Nightmare documentary piqued my interest. Christopher Walken is suffering from selective amnesia after aliens probe him in Communion (1989). This was actually better than I was expecting. It's a little cheesy, but the performances and ominous surreality elevate it into something genuinely fascinating. Communion is a movie that treats its "out there" subject with refreshing compassion.
11. Duncan Jones' Moon (2009) is a very well-crafted sci-fi rumination on what it means to be human yada yada yada. I'd hate to spoil anything, but it is more than Act II of 2001: a Space Odyssey. Sam Rockwell gives an amazing couple of performances here. The Clint Mansell score is also pretty good.
10. Heidi Ewing and Rachel Grady (Jesus Camp) turn their documentarian eye toward religion once again. Hasidic Jewish community of New York City are the focus of One of Us (2017), and it is every bit as upsetting as Jesus Camp. The Hasidic community has a lot in common with the Amish. For all the piety and devotion to tradition, there is also a controlling insularity that seriously hinder development and impede escape. Watch this with Louis Theroux's My Scientology Movie and then take a long moment and seriously examine your own religion and the walls it may also have.
9. Monsters again. I was honestly expecting C.H.U.D. (1984) to be another so-bad-it's-good creature feature, but, to my surprise C.H.U.D. (aka Cannibalistic Humanoid Underground Dwellers) simply delivers as a movie. It's got a solid cast you care about, gritty and atmospheric locations, and surprisingly human portrayal of the homeless. There are reports of disappearances in the sewers and only one cop (Christopher Curry), a homeless preacher man (Daniel Stern), and a photographer (John Heard) seem to be interested in uncovering why. Kim Griest and George Martin also have fun roles. Despite the films intentional lack of closure, C.H.U.D., while maybe no They Live or The Stuff, is well worth a watch. Weirdly, the monsters themselves are the weakest element in the movie.
8. Wadjda (2102), directed by Haifaa Al Mansour, is a Saudi film about a little girl who wants a bike in a culture that forbids girls to ride bikes. Simple setup. Waad Mohammed gives a natural performance as the title character, Wadjda. Traditions and culture can be stifling and the filmmakers understand that all too well. The characters' struggles are real and by the end, you really, really want her to get that damn bike.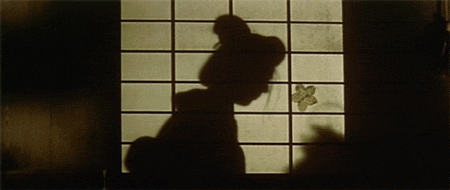 7. Too cultural? Not enough monsters? What if we combine the two? Kimiyoshi Yasuda's Yokai Monsters: One Hundred Monsters (1968) is everything. A little more Kwaidan than Hausu, but great fun all the way. One hundred Japanese ghosts and demons come together to thwart the bad guys. Also there are samurai. Wonderfully fun practical effects and puppetry give the production a very unique feel. I'll be watching this one again soon.
6. Let's stay in Japan a half tick longer. Woman in the Dunes (1964), directed by Hiroshi Teshigahara (The Face of Another), is the story of an entomologist (Eiji Okada) who winds up trapped in a hovel buried in the sand with a strange widow (Kyōko Kishida). That's all you need to get started. Sumptuously photographed. Beautiful and compelling.
5. You may think I'm insane, but holy hell, was Chopping Mall (1986) a lot of fun. It was everything I wanted in a movie about mall security robots that get struck by lightning and become evil and go on a murder spree against some unsuspecting teens. I laughed out loud. I cheered. I yelled at the screen. Chopping Mall knows what it is and is having a blast doing it. We are at maximum cheese here. Get ready for gleeful, creative violence, hammy acting, and a killer synth-pop score by Chuck Cirino.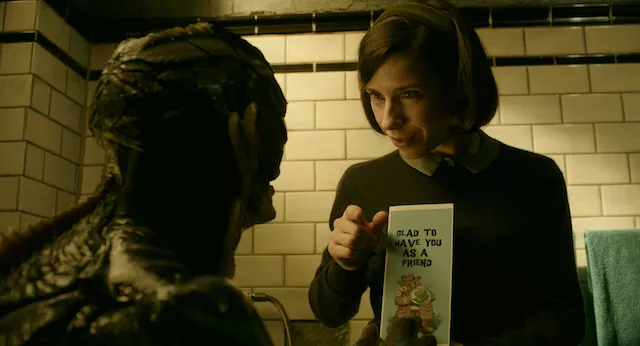 4. Under normal circumstances this would be a B movie. But not so. Dear Guillermo del Toro, please, continue to make adult fairy tales. The Shape of Water (2017) goes right alongside Cronos, The Devil's Backbone, and Pan's Labyrinth. Sally Hawkins gives a captivating performance as the mute cleaning lady who falls in love with a South American fish man and possible god (Doug Jones) while working at a secret underground government facility . The style, quirkiness, and danger are balanced very well. Richard Jenkins, Octavia Spencer, Michael Shannon, and Michael Stuhlberg provide great support. The Shape of Water is beautiful and brimming with imagination and tenderness.
3. OK, so after The Shape of Water I developed a slight crush on Sally Hawkins and was recommended Mike Leigh's Happy-Go-Lucky (2008). Hawkins plays Poppy, a spunky primary teacher exploding with positivity and charm that can come off as annoying to folks like her tightly-wound driving instructor (played by Eddie Marsan). Optimistic, genuinely funny, and affectingly human, Happy-Go-Lucky is a breath of fresh air. I absolutely fell in love with the character of Poppy and her hopeful worldview. Maybe you will too.
2. Silver Streak (1976), starring Gene Wilder, Richard Pryor, Patrick McGoohan, and Jill Clayburgh is one of the great train movies. Directed by Arthur Hiller (The In-Laws, The Man in the Glass Booth), Silver Streak plays like a sexy hybrid of North By Northwest and The Taking of Pelham 123. The chemistry between the actors is brilliant (no wonder Wilder and Pryor would go on to do three more movies together—all of which fall short of this perfect flick). A book editor (Wilder) is taking the Silver Streak from Los Angeles to Chicago when he meets a beautiful woman (Clayburgh), witnesses a murder, and gets thrown from the train again and again trying to save the girl. On one of his detours he meets up with a thief (Pryor) who becomes a friend and help on his mission. I had seen this movie years ago, but I don't think I fully appreciated it at the time. Also features Ray Walston, Ned Beatty, Scatman Crothers, and Richard Kiel.
OK. Let's break the world. My absolute favorite movie screening was a drunken double-feature of two Neil Breen films. I had previously reviewed Double Down and found it to be something special, but in context of Breen's entire oeuvre, it has catapulted in significance. We hunkered down with our mellow selves to enjoy Fateful Findings (2012) and I Am Here …. Now (2009) back to back. Then a week later we polished off his canon with Pass Thru (2016). Honestly, if you love strange, incoherent, singular visions unimpeded by studio demands or audience expectations and drunk on their own delusional obsessions and ham-handed messages, then please, for the love of everything, watch Neil Breen. Breen eclipses Tommy Wiseau and James Nguyen (Birdemic) in a way that is should be impossible. 
In a way he is a miracle. A gift given by the gods of film. Breen is driven by several passions and you can begin to assemble a fairly probable biography of the writer/director/actor/producer/caterer/music-picker-outer/etc. from spotting repeated motifs and child-like fixations in his work. I could explain the shenanigans that go on within the meticulously constructed worlds he builds in each movie; their flaws, their quirks, their incomprehensible plots, their Tim and Eric-flavored acting, but Breen truly must be seen to be believed. No other person has given me more joy in recent memory, which maybe is sad. Maybe it's crazy. But I believe in Breen and cannot wait for his new movie, Twisted (which you can help make happen here: https://www.gofundme.com/Twisted-Neil-Breen-Film).
Not all movies—or even all bad movies—are created equally. The films of Neil Breen feel like anthropology classes. They are an intense, intimate character study of the filmmaker himself. They contain endless mystery and questions and I mean this with no irony: I fucking love them.