So here's the last few movies I saw in the order of how much I liked them.
18. Maybe I'm in the wrong here, but Spasms (1983) was the most boring movie I have seen about a giant snake from hell that possesses people. It has a couple fun moments and some decent gross-out special effects and Oliver Reed is always fun to watch, but it didn't hold my attention.
17. Director David Zucker (part of the brilliant creative team behind Airplane! and The Naked Gun) teams up with the geniuses behind South Park, Trey Parker and Matt Stone, to deliver a truly embarrassingly unfunny comedy. Maybe if I had seen Baseketball (1998) when I was 10, I would have found it at least somewhat amusing. The tragedy is that bad dramas can be amazing comedies, but bad comedies are just tedious cringe-fests. Still love the creative team behind it though. If you have fond memories of this one, maybe just keep those memories without trying to re-watch it.
16. Issa Rae and Kumail Nanjiani star in the romantic comedy, The Lovebirds (2020). The two leads are talented, but the script here just feels kind of lazy and they don't have believable chemistry. And it's not really funny either. Or romantic. I like both actors, but it would have been nice to see them in a better movie.
15. Miracle Man (2013) is an awkward retelling of the gospel of Jesus (at least from his Temptation in the Desert to the Resurrection of Lazarus) set in modern day. It's got everything you want in a bad movie, but also boasts being what may just be the ugliest film I have ever seen. The framing, lighting, editing, after effects, and incessant use of green screen are painfully abrasive on the senses. There's several laughs to be had, but not a bad movie I'll be revisiting anytime.
14. I faced one of my fears and re-watched a film that traumatized me when I was a kid. Forget Left Behind, A Thief in the Night (1972) is the O.G. Rapture nightmare story. The Rapture, for those not raised in an evangelical bubble, is the Christian belief that, in the End Times, all the Christians will be whisked up to Heaven in the twinkling of an eye and then the Tribulation will start – complete with Antichrist and Armageddon, etc. The movie lays out their brand of eschatology several times and was designed to convert teens to its flavor of Christianity. But, surprise, a girl gets left behind and has to endure the world turning upside down after almost everyone she knows gets Raptured. Honest reaction on the re-watch: the title song is still haunting and pretty decent and the bulk of the movie is just kind of boring, but it does pick up in the final act and there is a pretty good twist. It's a bad movie that spawned two sequels (I recall the middle one being the best, although still pretty bad) and several copycats.
13. If you can sit through 3+ hours of meandering surreal French New Wave silliness then Jacques Rivette's Céline and Julie Go Boating (1974) is the movie for you. I really enjoyed the 70s fashion, interiors, and stylish shots of Paris, but ultimately found it difficult to follow when almost anything can happen and nothing made sense. There is a bit of a ghost mystery plot that becomes the dominant theme towards the end. That's something. Not bad, but a bit long, drifting, and maybe not exactly my cup of tea.
12. It's amazing how fast comedy can age. Sacha Baron Cohen stars as hip-hop enthusiast, misogynist chav, and lovable dolt, Ali G, in Ali G Indahouse (2002). Da Ali G Show was legit great; Borat: Cultural Learnings of America for Make Benefit Glorious Nation of Kazakhstan was groundbreaking; and Brüno was pretty funny too. But what made those things great were the real people caught on camera being awful and awkward, whereas Indahouse is a completely fictional carbon copy of the predictable Happy Madison Productions formula. Tucked away behind some passable to fine gross-out humor is some toothless political satire, but it pales in comparison to the series on which it was based. It still got a few laughs out of me and I'm always happy to see Ali G.
11. Sean Connery stars as a ex-con assembling a crew in the Sidney Lumet heist drama, The Anderson Tapes (1971). I love me some Sidney Lumet. This is the guy behind Dog Day Afternoon, 12 Angry Men, and Network. And I love me some Sean Connery. He can be 007, a renegade Russian submarine captain, and wear a red diaper in Zardoz. Who else has that range? And I absolutely love a good heist movie. And all in all, the movie is fine. It's fine. It's a got a good cast, a couple pretty good scenes, and an interesting examination of the rise of surveillance. It's fine.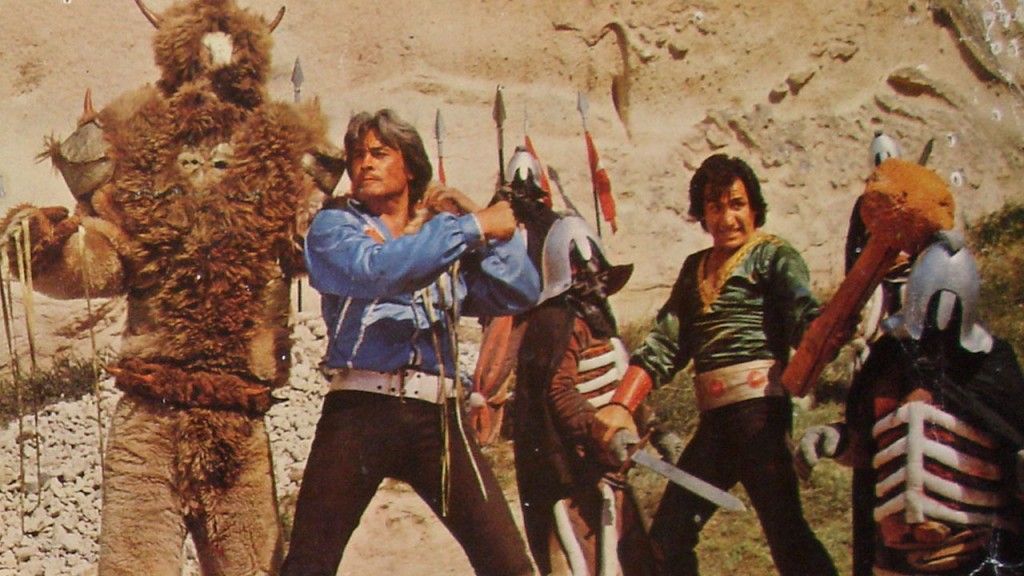 10. Legendary bad movie, Dünyayı Kurtaran Adam aka The Man Who Saved the World aka Turkish Star Wars (1982), is a must see for fans of so-bad-it's-good cinema. I've seen this film maybe 5 times  (because I am quite mad, you know) and it's always a pleasure to spring on some unsuspecting friends. The film is notorious for stealing footage and music from several other films (most noticeably, Star Wars and Indiana Jones) and cobbling together this nonsensical space adventure that boasts a lot of jumping. Highlights include: silly alien costumes; rock punching training montage; a Darth Vader knockoff drinking blood out of children via crazy straw, thus turning them into mummy slaves; a scene where a man melts a giant, golden, spiky sword into a magical cauldron with a human brain and plunges his bare fists into the molten liquid to have them emerge as power gloves.
9. I saw a trailer and read "from the director of Samurai Cop" and "starring Robert Z'Dar" and I was in. Killing American Style (1988) is peak bad late 80s/early 90s action schlock. Bad guys hold up in a mansion until the man of the house finally decides to be the main character in the last 10 minutes. While nowhere near as epic as Amir Shervan's legendary Samurai Cop, this little flick does have a lot of unintentionally funny bits and it is a lot of fun (if you can get passed all the casual sexual assault typical of the era and genre).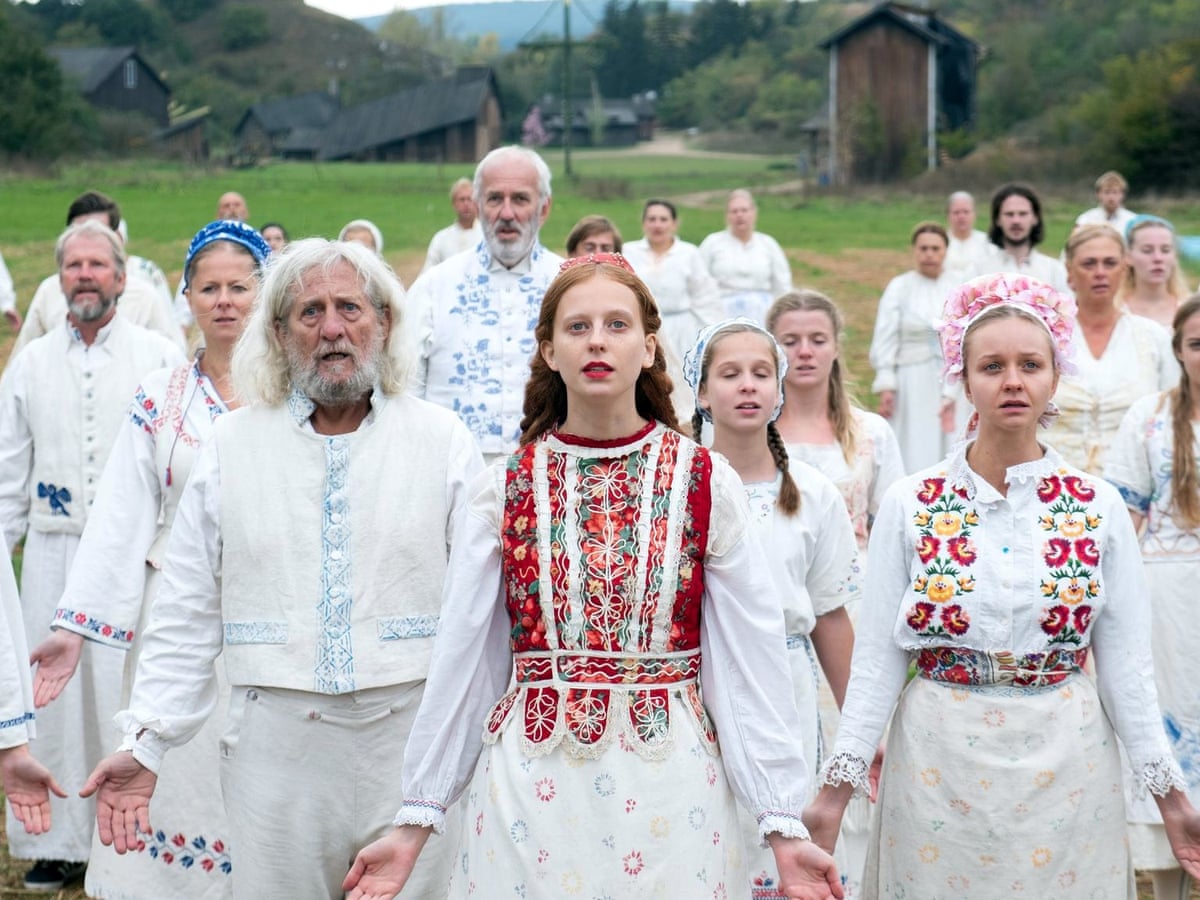 8. I finally saw Ari Aster's Scandinavian flavored horror flick, Midsommar (2019). Dani (Florence Pugh) winds up tagging along on a trip to Europe with her boyfriend who is too chicken to break up with her. Sweden, magic mushrooms, and creepy cult antics ensue. It's an effective bit of folk horror that's ultimately about a breakup. But in the most messed up way. I tend to prefer slow-burn, soul-shattering horror as opposed to jump-scares and gross-out stuff. It's got a bit of gore and a bit of dark humor and left me feeling suitably creeped out. If you liked the The Wicker Man (the original now) then check this bad boy out.
7. Director Peter Strickland certainly has a style. In Fabric (2018) is the story of a mysterious (perhaps haunted?) dress and how it effects the lives of those who are unfortunate enough to wear it. Similar in style to Strickland's other film, Berberian Sound Studio, it's an atmospheric wind up with horror undertones. Marianne Jean-Baptiste gives a great performance as one of the owners of the dress and I love the zany rituals and mechanics of the wacky department store and their hilariously eerie saleswomen (Fatma Mohamed being the stand out). It's weird and befuddled me at each turn.
6. A landmark of New Queer Cinema, Cheryl Dunye's The Watermelon Woman (1996) is a breezy Indie romantic comedy that's also a love letter to film history. When an aspiring documentary filmmaker working at a Philadelphia video rental store (Dunye) chances upon an old 30s melodrama called Plantation Memories, she finds herself captivated by a mysterious actress playing the mammy type role, credited only as "The Watermelon Woman." She begins to document her investigation into uncovering the lost history of this person, while also juggling her sometimes rocky relationships with her best friend (Valarie Walker) and her new partner (Guinevere Turner). There is a bit of that clunky exposition-laden dialogue common in indie works of the time, but the film is unique and feels like a breath of fresh air. You can tell it is a singular vision (Dunye wrote, directed, and edited it) and it is proudly black and proudly lesbian.
5. This wordless Italian film about life and its interconnected-ness may not be for everyone, but I enjoyed Michelangelo Frammartino's Le Quattro Voltre (2010). Inspired by an idea pontificated by Pythagoras, the film presents metempsychosis, or reincarnation, in a small village. In four phases, we follow an old shepherd until his death and seeming rebirth as a baby goat who is then becomes a fir tree before being converted into a kiln to make charcoal for the people. Quiet and beautifully shot, it will fill you with a resonating appreciation of life and its many forms…if you let it.
4. Capucine, Jane Fonda, Laurence Harvey, Barbara Stanwyk, and Anne Baxter star in this steamy Great Depression era melodrama, Walk On the Wild Side (1962) directed by Edward Dmytryk. Dove (Harvey), lonesome Texas wanderer, meets a brash, immoral runaway, Kitty (Fonda), on his journey to find his long, lost old flame, Hallie (Capucine), in New Orleans, where, he will learn, she is working as an artist but also a prostitute in the upscale bordello called the Doll House. The actors really lean into the juicy, melodramatic lines and plot. It's a particular style and probably a little silly for some, but honestly, I enjoyed this tawdry little flick. I could watch French actress, Capucine, sink her teeth into this over-the-top dialogue like it was nothing all day.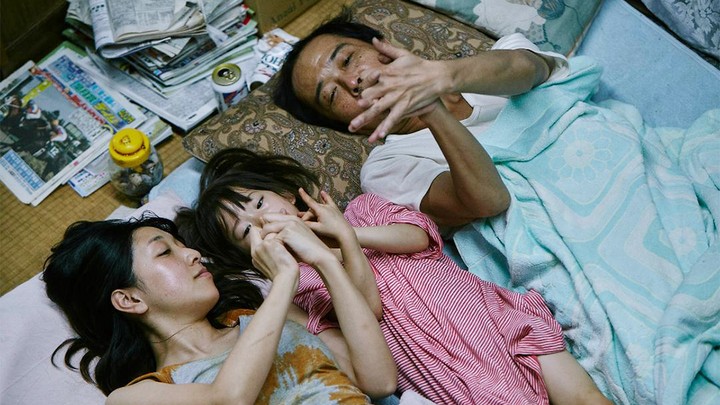 3. Hirokazu Koreeda's drama, Shoplifters (2018), centers around a poor family somewhere in Tokyo who steal what they can to get by. They have their own codes and rules and are united (despite most of them not being exactly related), but, to the outside world, they are criminals who deserve to be punished for their wrongdoings. Shoplifters is a tender and humanizing story and I recommend it.
2. An uptight English professor (Gary Bond) in the middle-of-nowhere Australia gets a Christmas break and winds up stuck en route to Sidney in the podunk desert wasteland of Bundanyabba (locally known as "The Yabba") in Wake in Fright (1971), directed by Ted Kotcheff. Initially disgusted by the sweaty, uncouth yokels, the out-of-his-depths school teacher quickly descends into drunkenness, gambling, and late night kangaroo hunting. Co-starring Donald Pleasance and Chips Rafferty, this is one wicked nightmare loaded with debauchery, violence, and philosophy only a scorching hellscape like the Outback could produce. I loved it. Other movies where an uptight city guy gets converted to a looser lifestyle I would also recommend: Dino Risi's Il Sorpasso and Michael Cacoyannis' Zorba the Greek.
1. If you like your folk horror black and white, Eastern European, and weird as hell, then, please, check out the amazingly beautiful Estonian film, November (2017), directed by Rainer Sarnet. Reminiscent of František Vláčil's Marketa Lazarová and Parajanov's Shadows of Our Forgotten Ancestors, November weaves its way through an atmospheric world of folk legend, casual magic, and doomed desire. Oh, and it's funny too. It's a wonderfully twisted unrequited love triangle between a simple peasant boy, a wealthy German baroness, and a desperate witch, but it is also about the weird little village of aging oddballs and their ghostly relatives, their various deals with the Devil, their possessed piles of junk that function as slaves, and their battles against the Plague. The cinematography is striking, moody, and utterly sucks you into this dark fairy tale realm that feels extracted from a dream.
---
BONUS: Animated Shorts
Most of these can be found on Vimeo! Honestly, check some of these out.
Phenomena Exotica (2020) is a Gilliam-esque examination of synchronicity, directed by Jossie Malis. Similar to the intro to P.T. Anderson's Magnolia, this sardonic short showcases several curious examples of coincidence and hints at the greater sense of overriding existential dread.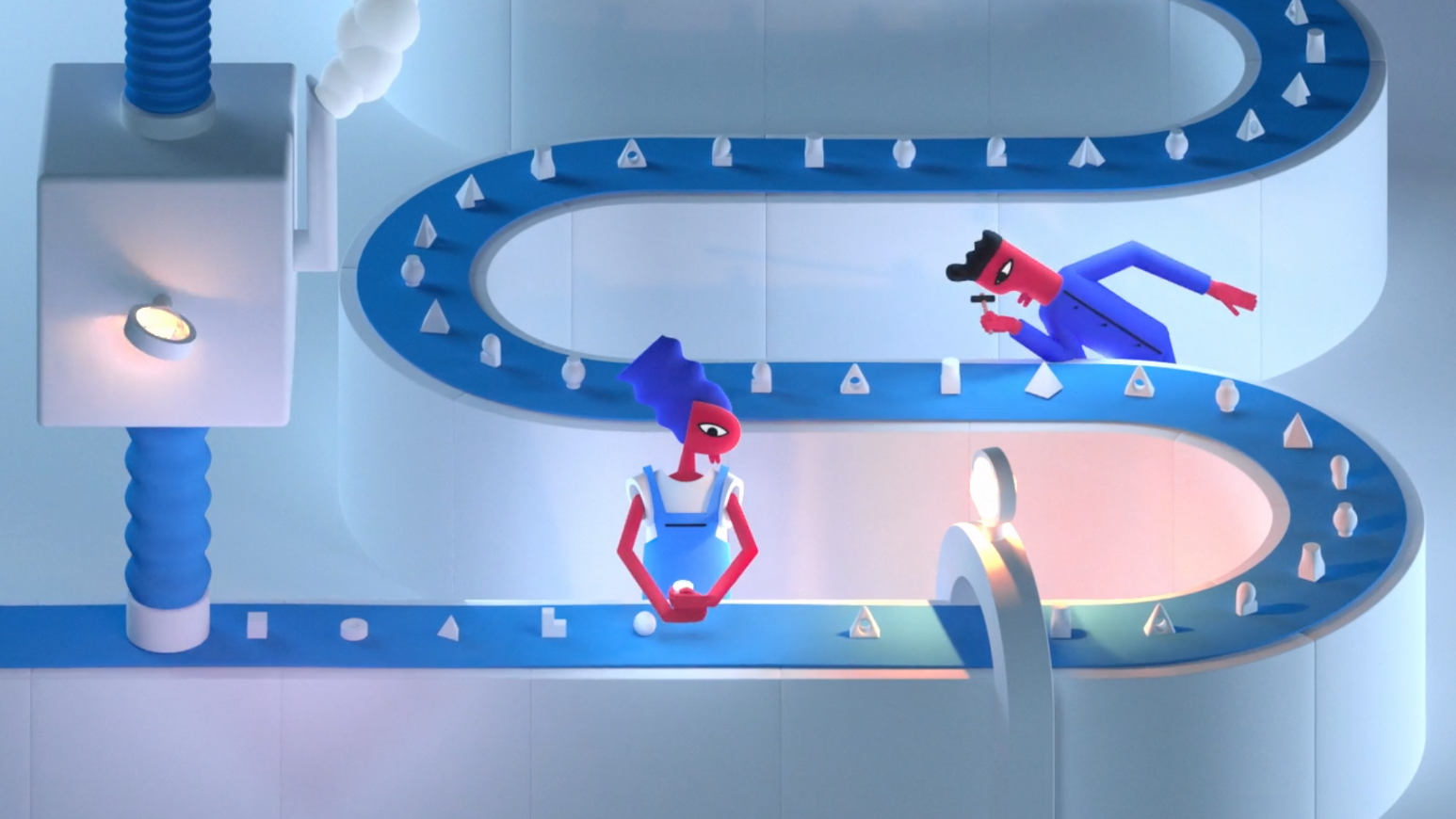 Armstrong (2020) is a hypnotically beautiful story loaded with pleasing shapes, sounds, and colors directed by Russ Etheridge. When the moon disappears, the very fabric of the characters' reality begins to fall apart and the hero must save herself, her unrequited crush, and the world itself. I absolutely loved the design.
Quaranteen (2020), directed by Gustavo Carreiro, is a black and white and red descent into the pandemic paranoia and an ill-fated booty call that culminates in a showdown between a boy on a bicycle and a giant COVID19 virus and, ultimately, a humorous PSA folk ballad.
P'tit Belliveau – L'eau entre mes doigts (2020) is a music video. But I really just dug the hell out of it. Weird and wonderfully Québecois.
Revenge Story (2019) is the story of a ballerina who gets her neck messed up from a chiropractor's error. Overcome with rage at her unfair misfortune, the ballerina succumbs to the singularly consuming desire for revenge, which ultimately leads to more hurt instead of the catharsis she seeks. Innovative design and great score.
Analysis Paralysis (2016) is a pretty accurate depiction of anxiety and overthinking, I'd say. This is what it feels like. But what got me was how the protagonist had to look outward to help other people in order to find some peace with his own obsessive compulsiveness.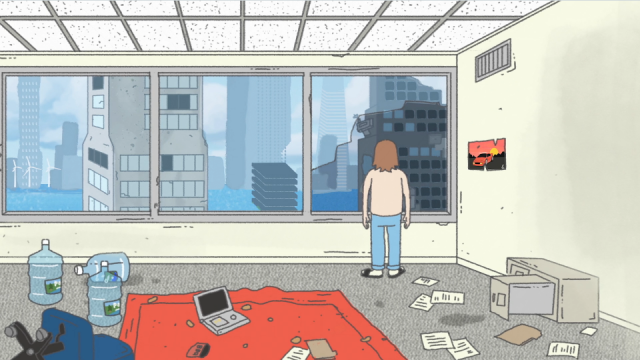 Wet City (2019) features music and narration by Sean Wing and created by Nick Vokey and Nate Sherman. It is hopefully not-too-prophetic depiction of a distant future where water now covers the Earth and the survivors cling to any semblance of the familiar they can, even if it is befriending a cybernetic vegetarian shark named Horizon. When bad guys ransack a ramshackle apartment complex and sharknap Horizon, our hero sets out on a journey to rescue her and encounters the remaining splintered factions of humanity in this post apocalyptic comedy.
Superbia (2016), by Luca Tóth, is a stunningly gorgeous, surreal, and gleefully psycho-sexual journey into a land of topsy-turvy gender roles and bizarre ritual.