Once again, I collect and rank the last several films I saw. Some I really loved. A lot were interesting and inadvertently humorous. None I hated. Film is subjective. These lists are a celebration of that.
Enjoy. And, as always, if you have a recommendation for me… give it to me.
24. Full Moon Features sure knows how to make one hell of a trailer. They produced a lot of schlocky horror flicks that, sadly, don't always measure up to their ads or nifty concepts. Lurking Fear (1994) is the story of a man fresh out of prison who goes to dig up money buried with a corpse on a spooky, stormy night. Too bad for him that naughty gangsters are also after the money. And also a cadre of ghoul hunters are chilling at the same cemetery, hoping to finally end the evil reign of these ill-defined creatures once and for all. Also a pregnant woman. It's a mess, but has some OK atmosphere and Jeffrey Combs is in it and he's always fun to watch.
23. The movie with the infamous "Garbage day!" scene. Silent Night, Deadly Night Part 2 (1987) is a bad movie held together by the even more laughably bad performance by Eric Freeman. He absolutely makes this movie. The first third of the film is a rehashing of the first film. They use lots of footage from the original. It's like movie SparkNotes. So you can skip the first one. It looks bad, but not nearly as fun. Mean nuns. Murderous Santas. A bland horror tale of revenge with some laugh out loud moments.
22. Evilspeak (1981) is the classic story about a bullied nerd (Clint Howard) at a military academy who discovers a Satanic library in the basement and uses computers to help him summon demons to get revenge. It's got a few pretty memorable scenes (mostly involving violence and murder), but it feels long in the middle when the movie has teased us enough and we just want to see the Carrie styled bloodbath.
21. I love cowboy westerns and have always disliked John Wayne. He's good in a couple movies (True Grit, Stagecoach), but he's just one of those iconic actors that never made a positive impression on me. But this movie has Maureen O'Hara and a pretty straightforward plot. I had seen Big Jake (1971) as a kid and caught it again recently. Some decent shootouts and suspense. He's just trying to rescue his kidnapped grandson.
20. Highway to Hell (1991) is a fantastically dark action-horror concept mired by the filmmakers insisting it be a lowbrow comedy. Our young protagonist's girlfriend gets kidnapped by a literal cop from Hell. The rest of the movie is the adventure through Hell (looking a lot like the American Southwest) and onto Hell City to get her back. Because it plays so silly and cutesie, the stakes never feel that high and most of the comedy does not really work (unless Gilbert Gottfried playing Hitler in a cameo is hilarious to you). There are a few fun special effects here and there, but ultimately there's not enough visually to make Hell feel like much more than a sunny stretch of highway in Arizona.
19. Robot Holocaust (1986) is a straight awful movie. Terrible sets. Even worse costumes. And the acting! The main villainess delivers her lines like she is just coming off anesthesia. It's no Starcrash, but we laughed a lot and sometimes that's all I ask for in my sci-fi schlock.
18. Pumpkinhead (1988) is not great, but I admire that it does try to be different. When a man's young son is accidentally killed by vacationing teens, he goes to a witch to make a deal and perform the rites needed to conjure the demon known as Pumpkinhead. Lance Henikson plays the tortured father who becomes linked with the monster he has unleashed. The practical effects of the creature and the witch's swamp are highlights visually.
17. Zoo (2007) is that documentary about the guy who died from having sex with a horse. The film also takes a distant but humanizing look at zoophiles in general and how that underworld sometimes operates in strange corners of society. More pensive than shocking, the movie focuses on individuals rather than go into gruesome detail of the incident. Almost Lynchian.
16. Visually sumptuous, gorgeously ornate costumes, breathtaking locations, and a script so convoluted and incomprehensible you may be scratching your head as to how many rewrites it didn't get during its infamous 25+ year production history. Terry Gilliam's cinematic oeuvre creaks from bold, hallucinatory, and inspired to unwieldy and frustrating with indulgent bombast eclipsing anything meaningful. I still rank much of his pre-2000s work among my favorite films, but The Man Who Killed Don Quixote (2019) is a problematic and unsatisfying mess that continuously picks up plot threads that don't really go anywhere. The film has moments of brilliance. When it leans into the fantasy and the adventure aspects, it approaches something, but it's ultimately a far more cynical, grouchy, and out of touch film that unceremoniously dispatches characters, plot threads, stakes, and messages with awkward weightlessness. What is it all about? What is the story? What is being said? It is very dense and it looks great and has a fine cast (wish Adam Driver's protagonist had at least one redeeming quality or that we actually felt the magnitude of Jonathan Pryce's character arc or that the wonderful Olga Kurylenko and Joana Ribiero were more than just eye candy as both have fantastic screen presence). As the more straight Don Quixote elements were the best bits, it makes me wonder how great the film could have been had it been more of a straight adaptation of the famous novel instead of the deeply uninteresting non-redemption story of a cowardly, asshole film director who ruins the lives of those around him. Unless that is the point. How autobiographical is this movie?
15. Behind the Curve (2018) is another documentary. This one takes a look at the flat Earth movement. If you've seen any of the thousands of YouTube videos exposing the truth about how our planet is actually flat and everyone is just lying to you…for some reason, then you're already familiar with the typical arguments and talking points. All of which are easily debunked. Behind the Curve, rather than focus on the wacky claims put forth, instead chooses to make the viewer more intimate with the personalities behind the movement. Sure, they're all a bit delusional and seem to hold more than a few bizarre beliefs for similarly baffling reasons, but behind that glazed look in their eye is an inquiring human mind that has maybe just gone astray. The movie doesn't go out of its way to challenge their claims. It just gives them enough rope to hang themselves. The hubris and myopia are real things that effect us all. If you're interested in cults, conspiracy theories, and how people can get sucked into those worlds and stay there, it's an interesting peek into that space.
14. For low-key horror films, Green Room (2015) almost succeeds in being brilliant. A broke punk band gets a gig playing in an old barn in the woods that just happens to be a hub for neo-Nazis. That should be enough to get the ball rolling, and had it been it I think this movie would have been a lot more satisfying. There's an added plot of a murdered man (Anton Yelchin's character sees too much) and then the Nazi leader (Patrick Stewart) shows up to contain it all. Had it just been the fact that punks were duped into performing there and that their onstage anti-fascist antics incite the white supremacist mob to violence, I think things would have been much more streamlined and interesting. But it seemed the movie was almost uncomfortable with just saying that Nazis are bad in and of themselves. As is, it's decent. Better than a lot of horror in the same vein. But could have been great.
13. Mystics of Bali(1981) wastes no precious time in getting into it. An attractive American girl wants to learn the most powerful magic there is. For some reason. Her Filipino friend (who she continues to tease with the promise of a relationship) agrees to introduce her to a witch in the jungle. She meets the witch, but the witch only wishes to use the foolish girl. She turns the girl into a penanggalan: a traditional Filipino floating vampire head with all of the internal organs hanging out the neck. This is more than just a bad a movie. It's wonderfully weird. It's slow to get going, but once the nonsense begins, it keeps going until we learn that white women, like jungle witches, are not to be trusted and that if you have one magic uncle and he dies, don't worry. You probably have another, more powerful ghost uncle to save the day.
12. "Eat food. Not too much. Mostly plants." Michael Pollan takes on a journey into America's diet. In Defense of Food (2015) covers a lot of basic stuff, but it does so in such an engaging and open way that it pulls you in. From the history of manipulative health language in advertising to the villages of small African tribes that live as organically as possible, Pollan is eager to discover what we should eat and how we can enjoy the food we eat.
11. Just look at that still. That is amazing. Motel Hell (1980) is the best Texas Chainsaw Massacre knockoff you can find, I'd wager. Human heads popping out of the ground like vegetables. A cannibal bed and breakfast. A pig headed chainsaw duel. This movie is cheap, fast, and hits you just when it needs to. Like greasy fast food.
10. Luigi Cozzi's The Adventures of Hercules(1985) is a sword and sorcery sequel that has wacky Italian production written all over it. We really wanted to watch the original with Sybil Danning (Howling 2), but we had to make do. Lou Ferrigno stars as the mighty son of Zeus. It's very episodic and most of the scenes are clunky exposition for how to solve a problem that will be solved within the next three minutes. It's wonderfully, watchably schlocky. I'm pretty sure they rotoscoped the t-rex battle from the original King Kong for the constellation fight at the end. It's great and I can't wait to find the first Hercules.
9. Mark Duplass plays a man with terminal cancer. Ray Romano is his somewhat socially awkward neighbor. Together they go on a short road trip to pick up some medically prescribed suicide pills. This is Paddleton (2019). It's a quiet and low-key dramedy that keeps its distance and deals with a difficult subject in a straightforward and sensitive way. Romano is perfectly cast.
8. Shallow Grave (1994) is a sly little film about three roommates (Ewan McGregor, Kerry Fox, and Christopher Eccleston) in Edinburgh and it was Danny Boyle's directorial debut. When their new roommate dies in the flat, the trio aren't sure what to do. Mainly because it turns out he had a suitcase full of money. How does one dispose of a body? How long before they can spend the money? What happens if someone comes looking for it? What happens if you can no longer trust your close friends? Streamlined and efficient black comedy.
7. Harmony Korine (Gummo) assembles one wacky cast (Matthew McConaughey, Isla Fisher, Snoop Dogg, Zac Efron, Martin Lawrence, Stefania LaVie Owen, Jonah Hill, and Jimmy Buffet) in The Beach Bum (2019). It's the story of a Key West hippie, poet, and stoner (perhaps a redundant collection of words) and his meandering life. You could say it's about him trying to get money, but that wouldn't be quite right. It's more about a wandering spirit that moves in any direction it pleases. I may prefer Spring Breakers for its bolder presentation and harrowing, unpredictable story, but The Beach Bum, while far more subdued and accessible, still boasts plenty of visual style. Like most of Korine's work, it's a fascinating glimpse into another American subculture.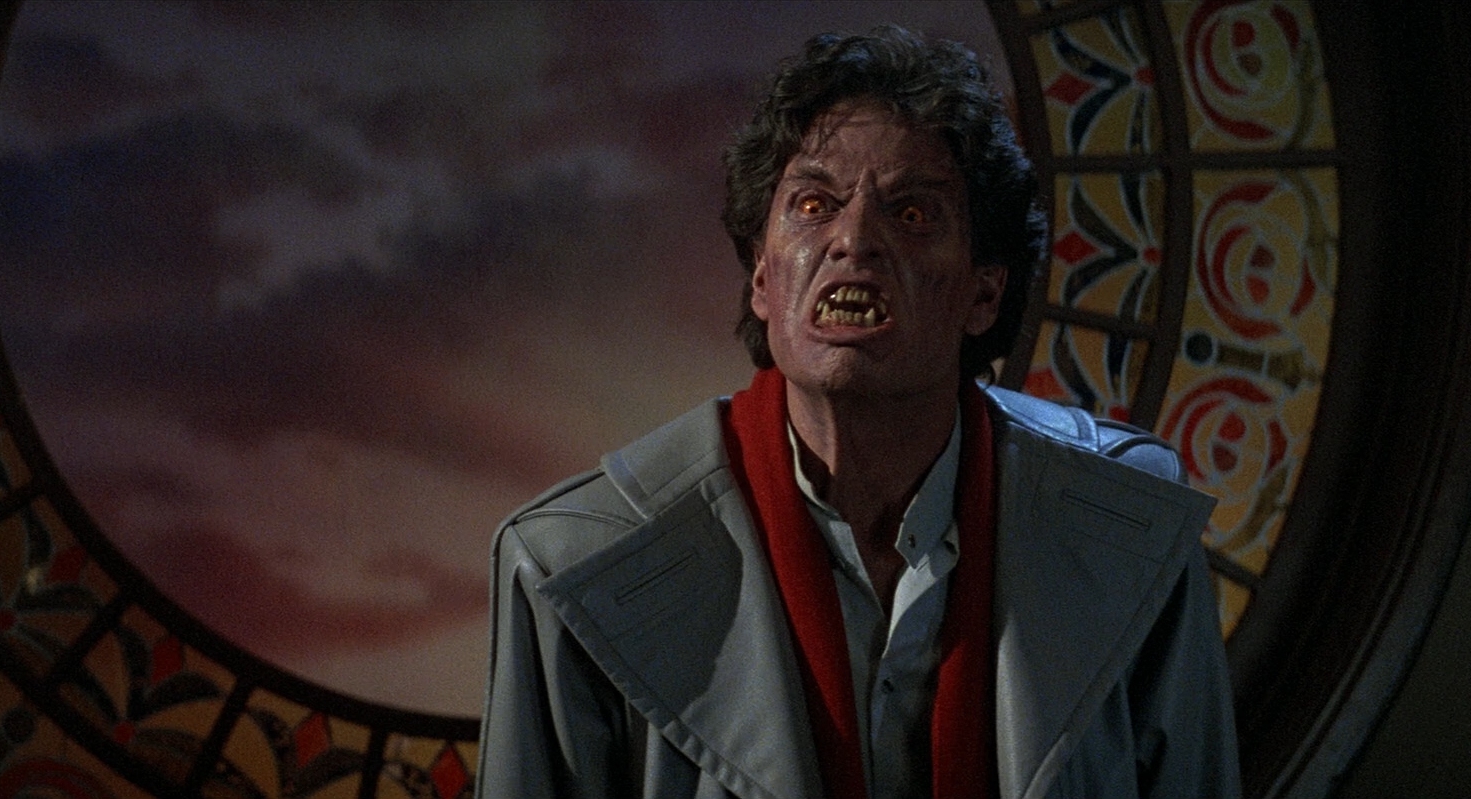 6. Holy moly did I love Fright Night (1985). It's like the perfect 80s movie. Great soundtrack. Great cast (Chris Sarandon, Amanda Bearse, and Roddy McDowell are so much fun). And some of the best vampire deaths ever filmed. What is a boy to do when a sexy vampire moves in next door? Call his local skeptical horror movie TV presenter and slay him! Genuinely loved this campy, sexy, spooky, fun flick.
5. Rashida Jones composes a beautiful biographical documentary of her talented father in Quincy (2018). Quincy Jones is one of the most important names in modern American music and music production. This movie is a loving portrait of the man, his life, his troubles, his flaws, and his amazing contributions to the world of music.
4. Art is a weird sort of thing. Struggle: the Life and Lost Art of Szukalski (2018) is a documentary about discovering an eccentric Polish genius lives right around the corner. From this beginning, we launch into a retrospective of the life of sculptor and esoteric artist Stanislav Szukalski (1893-1987). He's an odd, little old man, when the film introduces him. Underground comic artists and LA hippies develop a keen fascination in him and then they discover he was actually one of the most important sculptors and possibly the greatest Polish artist of the 20th century. And he's a bit of a character.
3. Netflix has been running Love Death Robots. It's a brilliant concept with some amazing artistry, but, in my opinion, some lackluster writing and, ultimately, I did not like the series. I do hope they push it and get better if they continue. Robot Carnival (1987) is the animated robot anthology that I wanted. Each segment is handled by a different director. Some stories are soft and poetic. Others are bombastic and raucous. I loved the visual richness and inventive styles and mesmerizing stories. Like all anthologies, you'll have your favorites. This had been on my radar for a long time and I'm glad I finally watched it.
2. Animator Nina Paley left a very good impression on me with Sita Sings the Blues. I had to applaud its humor, style, novel implementation of music, and narrative inventiveness. Seder-Masochism (2018) is a musical epic comedy brimming with clever satire and incendiary religious commentary while packaged in a bright, colorful package. The story takes Nina's curious goat character interviewing her Jewish father about her upbringing and juxtaposes it against her retelling of the history of religion, from early man's worship of feminine Earth mothers to the violent conquest of patriarchal monotheism and into the present day of continual bloodshed over holy real estate. It covers a lot of ground and has a lot of hot takes that may upset or tickle you, but with the lively animation and tunes, it's a breath of fresh air.
1. I know I've seen the Sidney Lumet masterpiece 12 Angry Men (1957) before, but I on a whim I gave it a re-watch, and seeing it again with adult eyes made me reassess its greatness. It's a tough feat to set a whole movie in one room and keep the dramatic beats going and create visual distinctiveness within acts. A lot of these points come down to staging, lighting, and cinematography. But it also has a fantastic script and is wonderfully cast. Henry Fonda, Lee J. Cobb, Jack Warden, E. G. Marshall, Martin Balsam, John Fiedler, Joseph Sweeney, Jack Klugman, Ed Begley, Jiří Voskovec, Robert Webber, and Edward Binns are twelve men locked in a jury room, tasked with determining the fate of a young man who has been charged with the murder of his father. The atmosphere is tense from the get go and only tightens as the men debate and talk out the whole meaning of "reasonable doubt" and what their duty is as jurors. The twists, summer heat of the setting, and character quirks keep the drama electric. 12 Angry Men is an American classic and a very patriotic film in the sense that it depicts the ideals of what this one aspect of the judicial system was meant to be. It is inspiring. Lumet, director of Network, Serpico, The Verdict, and Dog Day Afternoon brought this stage play to cinematic life with confidence and finesse. This is a classic for good reason and marvelous lesson in writing, acting, and filmmaking.