What luck. I actually dug all of these movies and would recommend every single one (depending on your tastes). As this experiment continues, my ranking means less and less.
23. Let me back up here. Awhile back I saw Class of 1984. I loved it. So when I learned there was a sequel, Class of 1999, I had to find it. I did. I watched it and I loved it. And it will appear later on this list. Because that's how much I loved it. But then I flew too close to the sun on wax wings. I watched the next entry in the series, Class of 1999 2: The Substitute (1994). It starts out on solid ground. We got our emotionless murder-bot substitute teacher (played like a Mormon Terminator by Sasha Mitchell) locking unruly teens in their cars and blowing them up with a hand grenade, while he stands by stoically (but cool guys don't look at explosions). I was tracking with this schlock until about halfway. This movie is almost two hours and the big paintball fight at the end goes on forever, although we do get a few nice info-dump monologues from mystery man (Rick Hill). It's not without its charm, but after the first few good kills, you'll be thinking about watching the first two flicks in the series.
22. Stone Cold (1991) is exactly the kind of meathead 'splosion nonsense you want in your early 90s action extravaganza. Plays-by-his-own-rules-Alabama cop, John Stone (Brian Bosworth), gets assigned to go undercover in a white supremacist biker gang led by Chains Cooper (Lance Henriksen). I gotta say, the middle was unbearably boring and the acting isn't great from our negative charisma lead, but the opening shootout in the grocery store and the big helicopter and motorcycle and machine gun-filled attack on the capital building finale was *chef kiss* fantastic. The hero is kind of dopey and hard to take seriously. The story is meh. But them 'splosions though. Also features Sam McMurry, Arabella Holzbog, Richard Grant, and William Forsythe. SPOILER ALERT: There's also a gag where our beefcake protagonist is making a smoothie with increasingly implausible ingredients to then reveal it was actually all for his dog who is actually a huge lizard.
21. Carl J. Sukenick had a vision. And, perhaps, only he can see it. Alien Beasts (1991) is his most famous work. And I do mean work. This was a hard watch. Fans of this site know I am a glutton for unusual and junk cinema and this movie ticks a lot of boxes. But Alien Beasts is incredibly alienating and difficult to follow. There were parts where I was cheering, but for most of it I was just waiting for the long, monotonous, uncomfortable "scenes" to end. This one is truly unique, but it is an endurance test. I probably will check out his other films though. Because I am quite insane and want to know more about the maker. But don't worry. Better bad movies are coming.
20. Roseanne Barr stars in the classic tale about a frumpy housewife who exacts revenge on her two-faced husband (Ed Begley, Jr.) and glamorous homewrecker/once-admired romance novelist, Mary Fisher (Meryl Streep). This is She-Devil (1989). It's funny and nasty and wacky and ultimately empowering, I guess. And I find it hard not to enjoy any movie that has Linda Hunt. Directed by Susan Seidelman.
19. Everyone's favorite cockney, Michael Caine, is an aloof debauchee in Alfie (1966), directed by Lewis Gilbert. This famously fourth wall-breaking comedy-drama follows the eponymous lustful libertine as he shags his way through postwar London. All the while, he remains impervious to consequence and oblivious or uncaring to the heartbreak and tragedies he causes. Will he learn anything? Watch this one to find out if you're a fan of Michael Caine and/or 60s British fashion.
18. People who love Jim Varney's renowned yokel alter ego, "Ernest P. Worrell" (I do not), cannot afford to miss Ernest's first film debut. Not exactly an Ernest movie, Dr. Otto and the Riddle of the Gloom Beam (1986) is more an excuse to showcase Varney's talent for voices, accents, and physical comedy. And for the costume and art departments to go insane. A mad scientist (Varney) plans to take over the world and exact revenge on his childhood rival, the straight-laced, all-American, goody-two-shoes, milquetoast "hero", Lance Sterling (and his no-nonsense partner, Doris). Dr. Otto is an assault on the senses, and, at times, tedious, but every time Varney is onscreen in any of his various characters it's really a lot of fun. He commits 110% to all of the over-the-top ridiculousness and really demonstrates that he was a unique artist.
17. Lou Diamond Philips stars as pop singer Ritchie Valens in La Bamba (1987). The musical biopic may not be favorite genre, and this flick has its share of ham next to its heart, but it's pretty good. The movie follows the tragically short career of the Mexican-American musician and songwriter and delves into his fraught relationship with his brother Bob (played wonderfully by Esai Morales). The songs and styles are fun and it has plenty of emotional ups and downs. Also features Elizabeth Peña, Rosanna DeSoto, and Joe Pantoliano.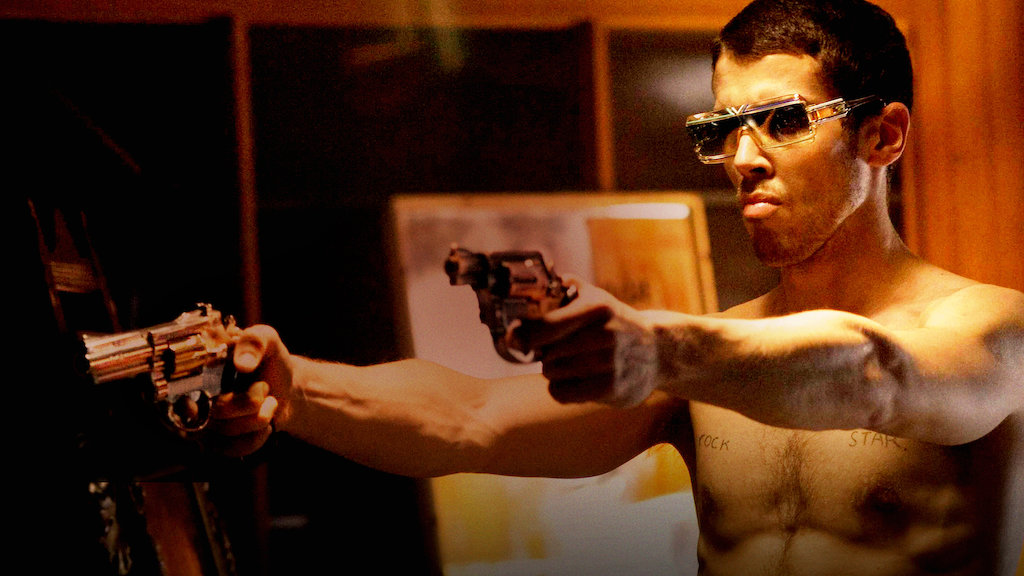 16. I'll say it. Guy Ritchie keeps remaking the same British gangster movie over and over again and no one seems to mind because it's a really cool movie. Where does Rocknrolla (2008) rank alongside Lock, Stock and Two Smoking Barrels, Revolver, and Snatch? Who cares? It's good. It's fast, funny, convoluted, and has a great cast loaded with sizzling dialogue barked out in brash cockney accents with even bigger egos. Guns and gangsters and double crosses and missing paintings. Also some rock and roll, because why the hell not? Guy Ritchie makes movies for the boys. And also the Aladdin remake. Whatever. I haven't seen The Gentleman yet, but I'm sure it's also more of the same and just as fun for it. Features Tom Wilkinson, Idris Elba, Gerard Butler, Thandie Newton, Tom Hardy, Mark Strong, Toby Kebbell, Karel Roden, Ludacris, and Jeremy Piven.
15. The Albert and David Maysles documentary, Grey Gardens (1975), is a fascinating look into a deteriorating East Hampton home inhabited by a mother and daughter duo both named Edith Beale, and the aunt and first cousin to Jackie Kennedy Onassis. Edith the younger seems to be living in a fantasy world while her aging mother reminisces about her long-gone glory days. The two Ediths rag on each other a lot in their New England upper class accents throughout the film. Depressing, wistful, and human.
14. Laika Studios' Coraline, ParaNorman, The Boxtrolls, and Kubo and the Two Strings are all brimming with impeccable artistry and imagination. Missing Link (2019) continues the tradition. Once again it is beautiful to behold, fun to ponder its complex themes, and somehow missing some tiny yet perhaps crucial and elusive component. I can't quite put my finger on it. But I will watch everything they do. In Missing Link, an English adventurer, Sir Lionel Frost (Hugh Jackman), searches for belonging in the highly exclusive "Society of Great Men" while a lonely Sasquatch (Zach Galifianakis) longs to find the family he never knew among the Yetis of the legendary Himalayan city of Shangri-La. It's a technically impressive adventure loaded with humor, action, and comeuppance. Voice cast also features Zoe Saldana, Stephen Fry, Timothy Olyphant, and Emma Thompson.
13. I really do miss good comedies. Mindhorn (2016), the story of a washed up TV actor turned police operative, delivers the laughs. Writer Julian Barratt stars as arrogant hack, Richard Thorncroft (formerly TV's Detective Bruce Mindhorn). He must return to the Isle of Man to aid the local police in catching a killer. A killer who seems to believe the Mindhorn character to be a real detective. It's a clever premise executed well. Also features Essie Davis and Steve Coogan.
12. Once again, my affinity for schlock shines through. Mutilations (1986) is a marvelous Mormon sci-fi/horror flick with some innovative special effects on a shoestring budget and the very best bad acting you could want. It is sort of surreal watching a movie where you just know the entire cast and crew attend the same church. Skip Alien Beasts. Mutilations is where it's at. I loved it. Even if the pacing in the last act makes this hour long movie feel like it might be two. It is careful when to play its hand and what to show, giving way for many wonderful surprises along the way. I can't say enough about this, but I also don't want to say too much. All I know is writer/director/producer Larry Thomas 100% believes in aliens and Joseph Smith.
11. Robocop director Paul Verhoeven does hyper-violent action satire right. A culture of jingoism and zealotry brainwashes generations of humans to sacrifice their lives for what they are told is the good of the planet. They will deploy to the arachnid planet of Klendathu where will they engage the alien enemy. What else can be said about Starship Troopers (1997)? It's cynical and tongue-in-cheek and yet still plays as a completely straight action adventure. Stars Casper van Dien, Denise Richards, Dina Meyer, Jake Busey, Michael Ironside, Clancy Brown, Neil Patrick Harris, and Patrick Muldoon.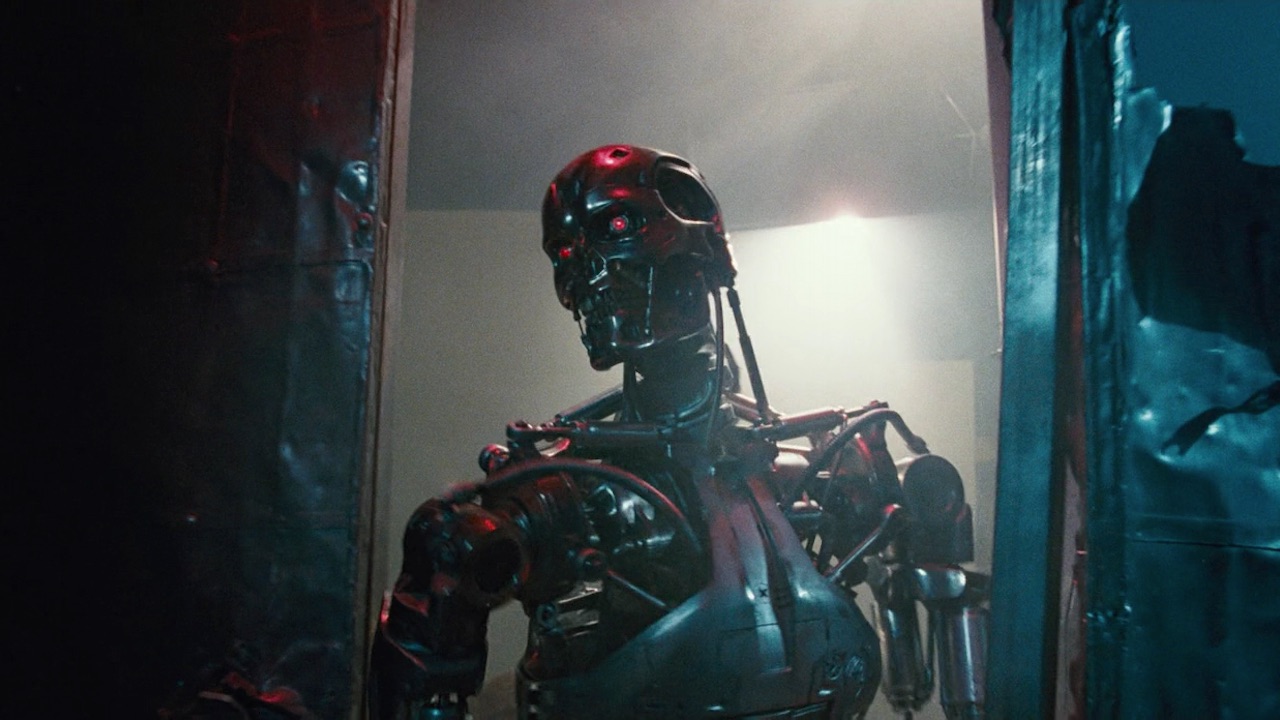 10. James Cameron's The Terminator (1984) is a classic example of a perfect sci fi/thriller. Expedient, streamlined story told mostly visually with little revelations for the characters along the way. It's dark, gritty, and clever. It's as efficient as Arnold Schwarzenegger's unstoppable cyborg assassin. And the sequel is even better.
9. I've seen Jason and the Argonauts (1963) once or twice in the past, but every time I see it I gain new appreciation for it. Whether it's the brilliant Ray Harryhausen stop-motion creatures and monsters or the refreshing sense of classic adventure, this tale of the noble Jason questing to locate the legendary Golden Fleece never fails to fill me with joy and excitement. It may be old and some viewers may find it creaky, but between the bronze giant Talos, the hissing hydra, the skeleton warriors, and perhaps my favorite depiction of Hercules (played by Nigel Green), I believe it's a hard film not to like.
8. While visiting the parents, we ended watching a classic I've seen several times. David Lean's The Bridge on the River Kwai (1957) was my favorite war movie as a kid (more of a POW movie). The steamy jungle location, the frustration of living in captivity, the menacing Japanese Colonel Saito (memorably played by the great Sessue Hayakawa), and the ultimate madness of war all made an impact on me. It's still an engaging battle of wills – between Hayakawa's ruthless military leader and Sir Alec Guinness's dogmatic captive Colonel and again between William Holden's American soldier just trying to live and Jack Hawkins' stubborn British Major hellbent on destroying the bridge. It's a fascinating series of character studies that delves into obsession, survival, zealotry, and commitment to rules.
7. Awhile back I watched Class of 1984 and loved it. Needless to say I dropped everything when I learned that director Mark L. Lester made a sequel titled Class of 1999 (1990). Cyborg teachers are sent into a cartoonishly anarchic inner city high school overrun by violence. It's cyborgs versus teen gangs and all I can say is yes. Finally. I know a lot of this movie is a knock-off from The Terminator, but it's just so much fun that I actually enjoy it more than some of the technically better movies it steals from.
6. There have been a lot of war movies. And some of the best ones, in my opinion, explore war's toll on an individual. Same Mendes' 1917 (2019) is a World War I epic that immerses the viewer in trench warfare as two soldiers (George MacKay and Dean-Charles Chapman) are tasked with delivering a message to another platoon to avoid a massacre. Cinematography legend Roger Deakins uses all natural lighting and seemingly one single take to capture the harrowing, heart-pounding action.
5. Well, this was a wild one. Diamantino (2018) is a Portuguese film directed by Gabriel Abrantes and Daniel Schmidt. It follows a dimwitted but pure-hearted soccer player who is completely oblivious and naive to all the ways the people surrounding him are playing him for a fool. With empty-headed Diamantino Matamouros (Carloto Cotta) as its vessel, the film celebrates how kindness and goodness can navigate a world of neo-fascist nationalism, tragic refugee crises, and unethical genetic modification. Like Alien Beasts, it's likely unlike anything you've seen, but in a good way. This probably ranks so high because I had no idea what it was before seeing it.
4. Laurence Fishburne, Cuba Gooding Jr., Ice Cube, Angela Bassett, Morris Chestnut, Nia Long, and Regina King star in John Singleton's Boyz n the Hood (1991). The story follows several friends (and their families) as they live and die in a corner of Los Angeles troubled by gang violence and the ever menacing hum of police helicopters in the night. It's a powerful film with strong performances, emotionally charged moments, and great 90s clothing.
3. This silent Japanese horror flick is anything but stilted. A Page of Madness (1926) showcases kaleidoscopic visions of insanity, sorrow, and pain. An old janitor works in an asylum to be close to his wife who is one of the patients. Through him, we meet many of the inmates and learn a bit more of the janitor's tragic backstory and current predicament. The film blurs the lines between reality and insanity skillfully and artfully. Considered lost for many decades, and even now still missing fragments, A Page of Madness holds its own alongside other silent giants like Cabinet of Dr. Caligari and The Man with a Movie Camera for avant-garde expressionism, hypnotic editing, and surreal montage effects. Directed by Teinosuke Kinugasa, but chiefly a collaboration with several Japanese artists in the prewar literary group, Shinkankakuha.
2. I told you I'd be watching more Lina Wertmüller films. Arguably her most well known, Seven Beauties (1975) stars Giancarlo Giannini as Sicilian rake and wannabe thug who winds up in prison, the psych ward, the front lines of World War II, and finally into a concentration camp. It's bitingly funny, but also (given the subject matter) achingly human and heavy. This is a complex Italian film that navigates its ever shifting tones with precision and delicacy. I like for a film to devastate me a bit. I absolutely loved it.
1. Down with the patriarchy. This is Moolaadé (2004). During a purification ritual involving female genital mutilation, several girls escape and seek protection under Collé Ardo (Fatoumata Coulibaly), a woman who, 16 years earlier, denied her own daughter the purification thus leaving her bilakoro (in essence, unfit to be married). She begins a magical protection ceremony (moolaadé) to keep the elders out. From there, the complex politics and drama of the village only snowball. Everything is connected and any deviation from the rigid structure can cause far reaching damage. I have been a fan of director Ousmane Sembène (arguably Senegal's most well known and important filmmaker), and this may be my favorite work of his. It explores the psychological walls culture allows us to build and how they trap us. I also view Moolaadé as a satire; a piercing examination of the foolish games we, as a society (any society), collectively engage in. Emotional and rewarding watch.